Crazy reasons to have an ice bucket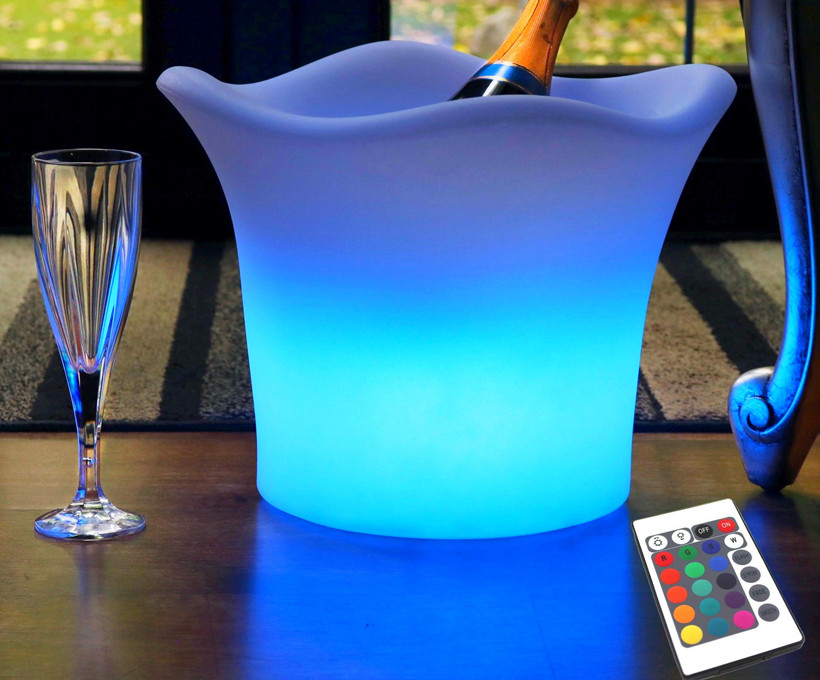 What could be crazier than having an ice bucket that is also a light-up LED display? While some people might think this is a frivolous luxury, others see it as a fun and unique way to entertain guests at parties or gatherings. Regardless of your opinion on the matter, there are plenty of reasons to own an LED ice bucket. Please keep reading to find out what they are! Are you looking for a way to keep your drinks cold at your next party while adding style and flare? Look no further than LED ice buckets. These portable coolers not only offer the practical benefit of keeping beverages chilled, but they also feature a colorful LED light that adds a fun and unique touch to any gathering. Not only are they perfect for outdoor events, but they can also add some atmosphere to indoor parties. So ditch the plain old ice bucket and upgrade your next gathering with an LED ice bucket party cooler. Your guests will be impressed.
WHY SHOULD YOU BUY AN LED ICE BUCKET: 1.LED ice buckets are a great way to keep your drinks cold while also looking stylish 2. They come in a variety of colors and styles so that you can find the perfect one for your party or event 3. They're perfect for both indoor and outdoor events 4. They make a great conversation starter and will be sure to impress your guests 5. They're affordable and easy to use, so there's no reason not to have one!
ICE BUCKET: Variety of Colors and Styles
They come in various colors and styles to find the perfect one for your party or event. These USB rechargeable buckets come in multiple colors and styles to find the perfect one for your party or event. Not only do they add a touch of class and style, but they also serve a practical purpose by keeping your drinks cool. For added elegance, try out a wireless LED champagne bucket. Whether it's for a wedding, birthday party, or business function, your guests will be sure to be impressed by this unique and fun addition to the festivities. Don't miss out on the opportunity to make your celebration memorable with a LED ice bucket
ICE BUCKET: Perfect For Both Indoor and Outdoor events.
The versatility of a portable glowing cooler makes it a must-have for any event. Whether you are hosting a garden party or planning a wedding, this multifunctional item can serve as a decoration and beverage holder. Its ambient light sets the perfect ambiance for an outdoor gathering, while its sleek design complements any indoor setting, making it ideal for hotel and restaurant events. Not only does it add to the aesthetic of your event, but it also offers convenience and practicality by keeping drinks cool for extended periods. Overall, a led ice bucket is a valuable addition to any event. So, consider getting a USB rechargeable plastic bucket. Not only will it keep your drinks cold, but it will also make your event more memorable and stylish. With so many colors and styles to choose from, there is sure to be the perfect one for you. So go ahead and make your next event one remembered with an LED ice bucket.
ICE BUCKET: Great Conversation Starter:
A LED ice bucket is not only is it functional, keeping your drinks cold and refreshing, but it also serves as a unique conversation starter. The color-changing lights add a touch of style and luxury to any occasion. This led champagne bucket will make a statement whether you're hosting a dinner party or an outdoor barbeque. Plus, with its durable construction and rechargeable battery, you can use it repeatedly for any special event. Upgrade your entertaining game with a LED ice bucket
ICE BUCKET: Affordable and Easy to use:
The LED ice bucket is an easy and affordable way to add some extra flare to your gatherings. It comes with a remote that allows you to choose from 16 solid colors and four changing modes, and it is also waterproof, making it perfect for outdoor events. Fill the bucket with ice and watch as the lights add a touch of personality and excitement. The remote allows easy control, allowing you to adjust the lighting throughout the night. The LED ice bucket is an excellent choice for adding some extra flair to any party or gathering for a cost-effective and convenient option.
ICE BUCKET: CONCLUSION
When planning a party or event, keeping drinks cool is essential. Using traditional ice can be problematic, as it may water down beverages and create a messy clean-up situation. Wireless led bucket offer a unique solution to this problem. Not only do they provide a visually appealing option for displaying drinks, but they also keep beverages cold without using ice. It eliminates the need for constantly refilling the bucket and dealing with watered-down drinks. LED ice buckets are durable and long-lasting, making them a wise investment for anyone in the hospitality industry. Whether used at a bar or an outdoor event, these buckets offer a modern and convenient way to keep drinks chilled.
Check out our LED Ice Bucket! This innovative cooler features built-in LEDs that light up in 16 different colors, plus four different changing modes. It's also waterproof, so you can use it outdoors without worrying about the weather. Plus, it comes with remote control, so you can easily change the color or mode of your LED Ice cooler from anywhere in the room! So visit ORANGESKY light you get your favorite LED ice bucket