How do I choose an outdoor table lamp?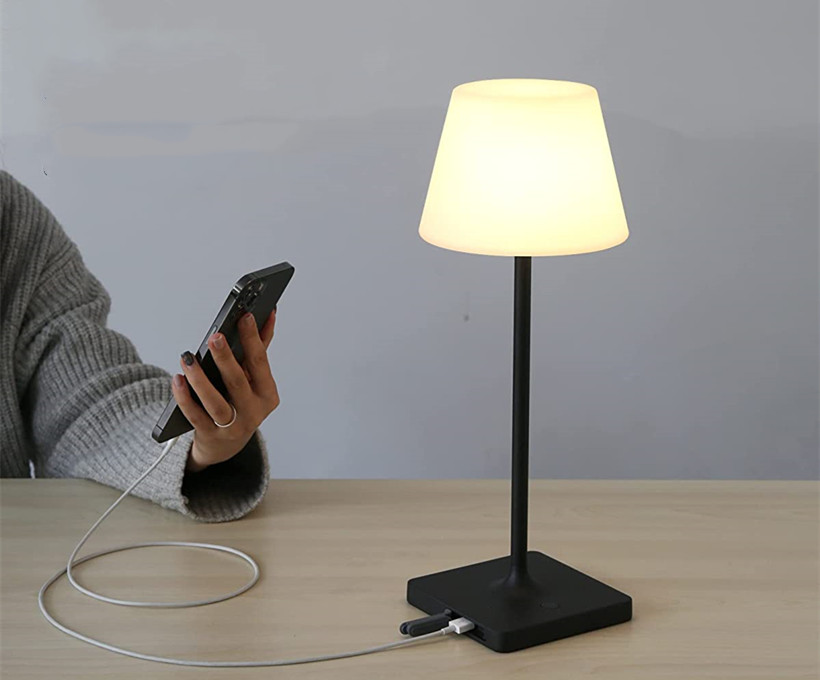 If you're looking for a way to add some extra flair to your outdoor space, consider investing in an outdoor table lamp with LED decorative lights. With so many different options available, it can be tough to figure out which one is right for you. In this blog post, we'll outline the key factors to consider when deciding and provide some suggestions for the best portable outdoor table lamp on the market. So read on to learn more!
When it comes to choosing a rechargeable led table lamps, the first thing you'll need to consider is the overall style of your space. Do you want something sleek and modern? Or are you going for a more traditional look? Once you've decided on your general aesthetic, it'll be much easier to narrow down your options
What is outdoor table lamp, and what are they used for
LED decorative lights add extra flair or decoration to a space. They come in various colors and styles, so you can choose the one that best matches your area. Additionally, they use less energy than traditional light bulbs, so they're an excellent option for outdoor spaces. Waterproof LED decorative lights are a type of lighting commonly used in gardens and other outdoor spaces to add a decorative touch. These table lights are typically made from durable materials(LLDPE) like plastic or metal and can be cordless, making them easy to install without the need for complicated wiring. Additionally, many rechargeable bedside lamps are USB-recharged, meaning they can be recharged directly from any standard USB outlet. Whether you are looking to light up your garden at night or add some ambiance to your living room, LED garden light fixtures are a versatile option that can help you achieve your decorating goals.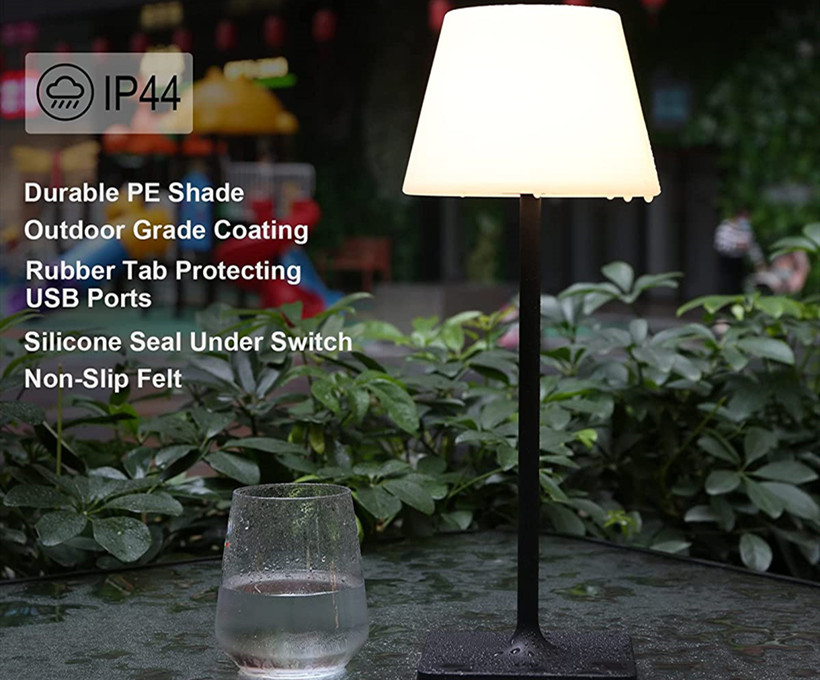 The different types of cordless outdoor table lamp
Whether you're looking to enhance the aesthetic appeal of your outdoor space or brighten up an event, LED decorative lights are a perfect choice! Wireless glowing led table lights come in various forms and are perfect for outdoor use. For example, garden or landscape lights can be ideal for illuminating outdoor areas such as flowerbeds, trees, and outdoor walkways. Additionally, party lights add a festive touch to events like weddings, pool parties, hotels, restaurants, coffee shops, and outdoor fairs. Similarly, LED hotel lights can add a touch of elegance to hotel landscapes and pool areas, making them perfect for special events and functions.
How to care for your outdoor table lamp
When caring for your LED decorative lights, the most important thing to remember is that they are sensitive to moisture and heat. You should avoid subjecting them to extremes or letting them come into contact with liquids or sources of water. It would help if you kept them in a dry storage space when unused. In terms of cleaning, LED lights are easy to care for as they don't require unique products or materials. A simple damp cloth will suffice for most purposes, though you can also use a sponge or soft-bristled brush if needed. Finally, once you have placed your LEDs back in position and plugged them in, ensure they do not get bumped around or knocked over accidentally. With proper care and attention, your LED decorative lights should last for many years and add sparkle and beauty to your home all winter
How to buy the right LED decorative lights
When shopping for outdoor table lamps for patio, look for high quality. A higher initial investment will save you money in the long run as LEDs from reputable brands last longer and provide superior brightness. You should also consider the color, as some colors may be more vibrant than others. If you are looking for subtlety, white or yellow LEDs might be the best choice. However, if you want to add a fun and festive touch to your Christmas party, go for brighter colors like blue or green. Finally, decide on the function of the lights. However, if you are using them to light up an outdoor space, Rechargeable lights might be the best option.
It's also important to think about what you want to use your decorative LED lights for. Some people like string lights because they create an inviting atmosphere or bring attention to particular features in their outdoor space. Others might prefer colorful floodlights to highlight certain areas of their garden or lawn. No matter what kind of decoration you're looking for, there's an option that will suit your needs well. So if you want long-lasting, energy-saving decorative LED lights, be sure
check out ORANGESKY Light's website today!
The benefits of using cordless outdoor led table lamps
LED decorative lights offer many benefits compared to traditional incandescent bulbs: 1. They are USB rechargeable, and easily powered using a USB cable without requiring complex wiring. 2. They are rechargeable with a built-in lithium battery that is both lightweight and long-lasting, making them perfect for decorative lights that will be displayed all night long. 3. These lights are waterproof and rugged, making them ideal for outdoor use in any weather conditions. Many LED decorative lights also come with remote controls that easily adjust your smartphone's light settings and color schemes. Overall, using LED decorative lights is a great way to light up your home or garden and save energy and increase convenience.
CONCLUSION:
Now that you know how to buy, install, care for, and choose the right type of LED decorative light for your outdoor table lamp, it's time to find an excellent source for all your needs. Visit our website today for an extensive selection of high-quality LED lights that will brighten up any space. With our easy-to-use search features, you can find the perfect light for your home in no time – and at a great price! So what are you waiting for? Start shopping for your LED decorative lights today! Thank you for taking the time to read this article. We hope that it has been helpful and informative. If you have any questions or comments, please get in touch with us
anytime.