Illuminating LED furniture brings a new life to your outdoor events or garden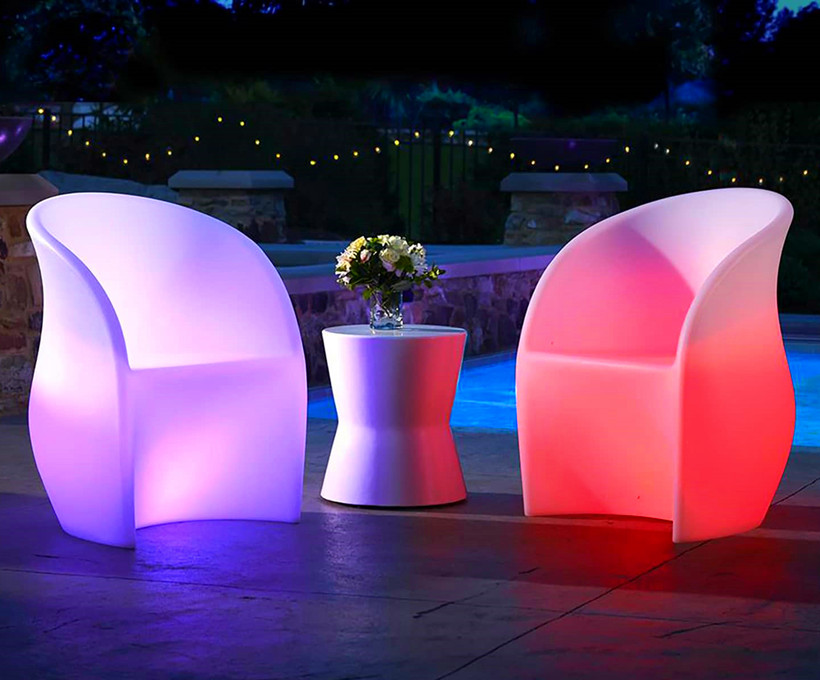 Are you looking for contemporary outdoor event furniture? The glowing LED furniture is a fantastic option to satisfy your needs. They produce various environments and lose less energy, saving you money on your electricity cost. When managing illuminated led furniture in any environment, such as an event, garden, party, wedding, or patio, this multi-function is crucially evident in outdoor led furniture lighting.
The light of the key points of the home
Every spot in a house is important from a lighting perspective because we perform some activity there. However, areas like the kitchen, dining room, or garden end up being the spaces where the majority of house life takes place. Lighting is therefore employed to give each of them better security, beauty, and personal identity.
Outdoor LED lighting must serve the dual purposes of beauty and safety since these areas are ideal for gathering people during the best seasons of the year. There are numerous ways to accomplish that including using candle-sized LED devices, LED garden balls, LED vases, LED sofas, or even wireless outdoor led table lamps. However, the glowing led furniture will be the key to catching your eye.
Consult a qualified decorator
Planning is crucial when deciding to illuminate an exterior. Identifying the components of the garden or patio, where they are located, and deciding which ones you want to light (trees, walls, steps, ponds, etc.) can help you determine what kind of LED equipment is required. For this operation to be completed with the necessary professionalism, an interior designer can assist in the planning stage by selecting the finest locations for lighting additions.
In any event, the solutions selected for LED outdoor lighting need to be weather-resistant, i.e., they need an IP degree of protection high enough to withstand humidity, dust, or even sun exposure. The humidity and temperature in gardens and other outside spaces must be considered.
There are numerous possibilities to create a comfortable and aesthetically pleasing environment in the traditional lighting market. For exteriors where you specifically want to showcase trees or vegetation, LED garden lights or wireless outdoor LED table lamps will be an excellent solution. And the reason for that is that the light is bright and clear.
What if you used LED furniture to decorate?
On the other hand, Rechargeable LED furniture is a solution that makes it possible to add a modern flair and brilliant settings to a garden.
There is no denying the aesthetic attraction of this outdoor furniture, nor the superiority of its technological components.
These LED tables, which may be illuminated in white or various RGB colors to start, are fantastic examples. Their technological requirements are in line with what ought to be expected of any form of outdoor LED furniture:
1. They have rechargeable batteries because using cords in outdoor areas is not a good idea.
2. High-quality polyethylene is a eco-friendly material for the outside, being impervious to impacts, water, prolonged sun exposure, and caustic materials.
Safety and decoration can now be blended into a single idea thanks to the flexibility of outdoor LED lighting. In addition to tables, there are a variety of other possibilities, such as cubes with cushions or LED buckets that can also glow in different colors and are operated remotely for ease.
Additional suggestions about LED outdoor furniture
There are a few suggestions that should not be overlooked, even though the only restrictions are the installer's ideas and desires for the outdoor lighting:
1. Although IP65-led furniture is designed to withstand contact with water, they are not immune to other calamities like bad weather. It is advised that some lighting solutions have their mooring firmly set because the wind is another factor to be considered.
2. Remember the simplicity and efficiency of LED furniture. Their setup is simple, enables the creation of specific highlights, many of them have an IP65 rating, and despite appearing straightforward, they provide the user with the necessary durability for an LED.