How to make your events more attractive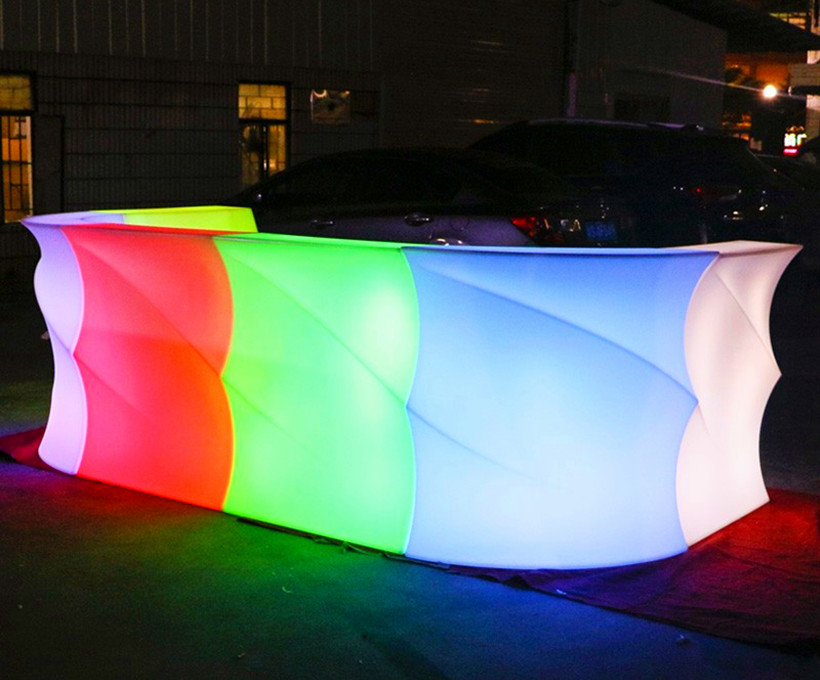 Are you looking to add a bit of sparkle and excitement to your events? LED furniture may be just what you need! Available in various styles and colors, this modern furniture can set the tone for your gathering. Plus, it's easy to use – no complicated setup is required. Here's how to make the most of this trendy addition to your next event
LED Furniture is perfect for making your events more attractive! With a range of pieces, including LED cubes, chairs, sofas, bars, and counters, you can light up any space in seconds. Our furniture is cordless and rechargeable, with one built-in lithium battery that can be charged by USB cable. You can also choose from 16 solid colors and four changing modes with our remote control. Our furniture is waterproof and can be used outdoors, making it the perfect addition to any garden party or wedding.
Now that you know how to use LED furniture, it's time to get creative! Here are some ideas to get you started:
How does LED furniture work?
Now that you know how to use LED furniture, it's time to get creative! Here are some ideas to get you started: 1. Use LED cubes as tables or decorations 2. Place LED chairs around the edges of your event space. 3. Use an LED sofa as a focal point for your gathering 4. Illuminate your bar or buffet with LED lighting. 5. Add an extra touch of excitement with LED counters.
Light-up led furniture is a great way to add an extra flair to your events. With its easy setup and trendy designs, it's sure to make your gathering more memorable. So get creative and start planning your event today!
The benefits of using LED furniture for your events:
Hiring LED furniture for your events can add a whole new level of excitement and visual appeal. Not only are these pieces visually stunning, but they are also environmentally friendly as they use rechargeable batteries instead of disposable ones. Led furniture can be used indoors and outdoors, making it versatile for any event. In addition, the rental options for led furniture are diverse – from chairs and tables to couches and bars. Upgrade your next event by incorporating outside LED furniture into the mix. Your guests will love it.
How to choose the right LED furniture for your event:
When choosing outdoor led furniture for an event, it's essential to consider the location and type of event. In indoor settings like hotels or coffee shops, style and color can be crucial factors in creating the desired atmosphere. Lightweight and weather-resistant materials are necessary for outdoor events like garden parties or weddings. Additionally, the purpose of the event should also be taken into account. An LED bar table might be a good choice for a cocktail party, while LED ottomans could be a practical and stylish addition to a corporate fair or expo. Considering these factors, you can easily choose the right exterior LED furniture for any event.
Different types of LED furniture available on the market:
Regarding light furniture, LED options offer a unique and modern touch to any space. LED furniture adds a whimsical touch to any setting with endless color and customization options. LED cubes, chairs, and sofas provide comfortable seating and a fun light source. LED bar counters are perfect for outdoor gatherings or events, illuminating the area and giving guests a place to gather around. LED benches and stools can add a pop of light to any room or outdoor space, making them a versatile option for lighting design.
How to set up and take down LED furniture:
Setting up cordless rechargeable furniture LED is a simple process that requires little effort: 1. Remove the furniture from its packaging and place it in its desired location 2. Connect the power source to the furniture's control box, following all safety instructions. 3. Use the remote control or another device to turn on and customize the lighting display. Taking down led rechargeable light furniture also follows a straightforward procedure. Turn off and disconnect the power source before dismantling the furniture and placing it back into its packaging for storage or transport. Always keep in mind any applicable safety measures during both setup and takedown. Following these steps will ensure a smooth, efficient experience with LED furniture.
Tips for maintaining your LED furniture:
When it comes to maintaining your glow LED furniture, there are vital tips to keep in mind. First, it is essential to note that the furniture has a built-in rechargeable lithium battery, which should be charged using the included USB cable. In addition, if you notice any damages or malfunctions with the lights, it is best to contact the manufacturer for repairs instead of attempting them yourself. By following these guidelines, you can ensure that your LED furniture remains in optimal condition for years to come.
Whether used for everyday decor or as part of a special event, illuminated LED furniture is a creative and modern way to light up any space. These pieces are versatile and fun, with a wide range of styles, colors, and functions. They are also easy to set up and maintain, making them a hassle-free option for lighting design.
CONCLUSION:
Before: You're tired of using the same old furniture for your events and want to try something new. But you don't know how to make your events more attractive with LED furniture.
After: With LED furniture, you can add a touch of sophistication and elegance to any event. Not only does it look great, but it also provides several benefits that other types of furniture can't match.
Bridge: Whether planning a wedding, corporate event, or birthday party, LED furniture is the perfect way to add style and functionality to your space. With so many different types and styles available, there's sure to be one that's perfect for your needs.