Why do you need to have one led lamp portable speaker?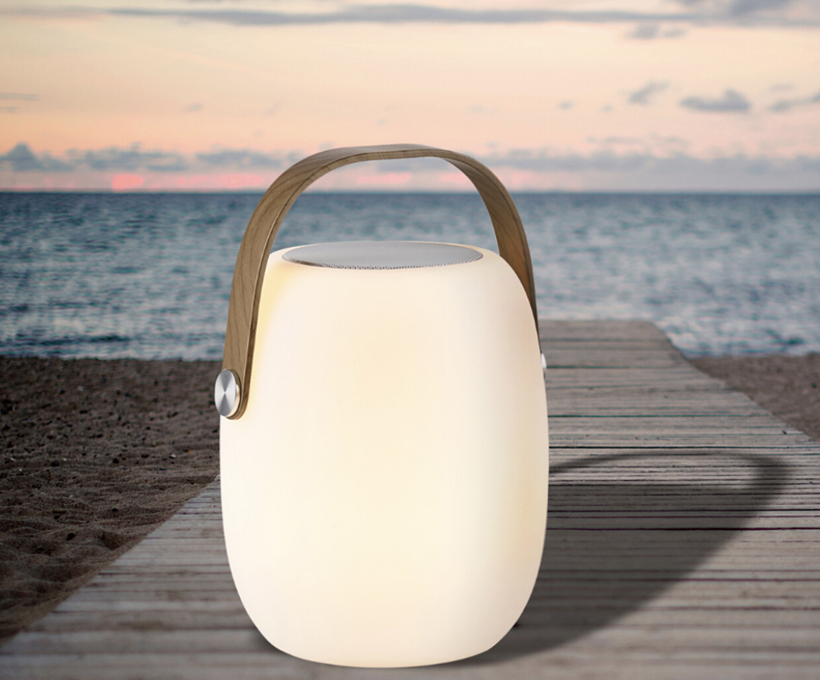 If you're like most people, you probably think of portable speakers as those small, cylindrical objects that fit in the palm of your hand. And while they certainly have their uses, they're not always ideal for all occasions. For example, what if you want to listen to music at a cookout or party? A small speaker just isn't going to cut it. That's where a led lamp portable speaker comes in. With its powerful sound and bright light, it's perfect for any occasion. So why do you need one? Keep reading to find out!
Benefits of having a portable LED:
There are many benefits to having a portable outdoor LED lighting speaker, and they can be instrumental in various settings. In the garden, outdoor LED lighting speakers can help to highlight your favorite plants and structures while also providing ambient illumination for outdoor gatherings. They are also great party accessories, as they can be quickly taken from one room to another and are perfect for setting the mood in any space. Additionally, outdoor LED lighting speakers are ideal for bringing a sense of relaxation or coziness into your bedroom or hotel room. Additionally, glow portable led speakers can be used in coffee shops, dining rooms, or other events and social gatherings. Overall, there are countless applications for these versatile speakers, making them an essential addition to any home or business.
How does it work:
Portable LED outdoor lighting speakers are versatile and innovative electronic devices. Unlike traditional speakers, which typically only produce sound, these speakers also have integrated lights that can be used for entertainment or emergencies. Many portable LED outdoor lighting speakers also come with remote controls, allowing users to change settings and adjust brightness levels easily. These speakers are also wireless and operate via Bluetooth, making them convenient and user-friendly. Some models even double as Luminous Lanterns and can help guide you when walking in the dark. Overall, portable outdoor Bluetooth speaker lights are an exciting new addition to the world of electronics, offering users convenience and functionality in a single device.
What type of environment is it perfect for
Portable outdoor lighting speakers are an excellent choice for any outdoor environment, from gardens and backyards to outdoor parties, festivals, and events. Because these Illuminated sound lanterns are weather-resistant and easily mounted on fences or walls, they are perfect for outdoor spaces that see a lot of use during the warmer months. They also make great additions to hotel rooms and coffee shops, where people often gather in the evenings for social events. And because portable light speakers are portable and can be set up quickly and easily, they can even be used in smaller outdoor spaces like your garden or bedroom patio. Whether you're hosting a birthday party or planning an outdoor wedding reception, outdoor lighting speakers provide a beautiful way to set the mood while keeping the conversation going all night long!
WHERE TO PURCHASE
When looking for portable LED outdoor lighting speakers, it is essential to choose a reputable retailer. At ORANGESKY Light, we pride ourselves on our extensive selection of high-quality products and low prices. Our expert staff is on hand to provide expert
guidance when selecting the right illuminated outdoor battery-powered waterproof speaker&bluetooth for your needs, and we always offer fast, reliable shipping options so that you can get up and running as quickly as possible. With over a decade of experience in the industry, our team is committed to helping you find exactly what you need to get the most out of your outdoor space. So if you're looking for reliable, affordable, portable led outdoor speakers, look no further than ORANGESKY Light. Visit us online to see our full selection today!
High-Quality Product:
Several factors will influence the total cost when considering the purchase of a high-quality wireless Bluetooth speaker system with speakers. Factors that may contribute to a higher price include the quality of materials used, the durability and size of the product, and any additional features or accessories included. Generally, you can expect to spend between $200-$500 for a good quality portable outdoor speaker and lighting system. However, the overall cost will vary depending on the models and brands you consider, so it is essential to research and shop around before making a final decision. In the end, spending a little more money on a high-quality product could save you time and hassle in the long run. So if you're looking for a reliable way to light up and entertain your outdoor space, investing in a quality wireless Luminous Lantern with a sound speaker system is worth considering.
Where can you find the best deals:
Looking for the best deals on portable led outdoor lighting speakers can sometimes be challenging, especially if you are shopping online. However, several expert review sites and online marketplaces can help you source the best products at the most competitive prices. One excellent option is to check out online retailers specializing in ORANGESKY light products, as these businesses often have access to perfect pricing from their manufacturing partners. Additionally, many of these vendors also offer free shipping and generous return policies, making them a great choice if you want high-quality outdoor speakers at an affordable price. So whether you are shopping for yourself or looking for gifts for your loved ones, check out the offerings from leading retailers in the field of portable led outdoor lighting speakers today!
CONCLUSION:
A portable LED outdoor lighting speaker is beneficial to have for many reasons. The main reason is that it can be used in various settings and provide excellent sound quality. Finding a durable product is also essential so you don't have to replace it often. When looking at prices, compare the features of different products before deciding. There are plenty of places online where you can find good deals on LED outdoor lighting speakers.